Omoriyama Zoo is where we can talk with animals. Let' take a walk in the park. You will feel that you and animals communicate each other with eye contacts.
"Hello, all the animals!"

From JR Akita station, the bus (Araya line) will take you to the zoo in 30 minutes.
From JR Araya station, it takes about 30 minutes on foot. If you use a bus (Omoriyama Koen line) from Araya Station, it takes about 8 minutes.
Akita Omoriyama Zoo opens everyday from March 20 to November 30, and most of the weekend during winter.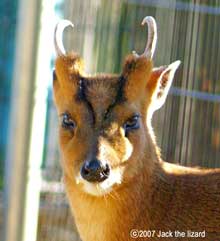 Reeves's muntjac
a common small deer in Taiwan