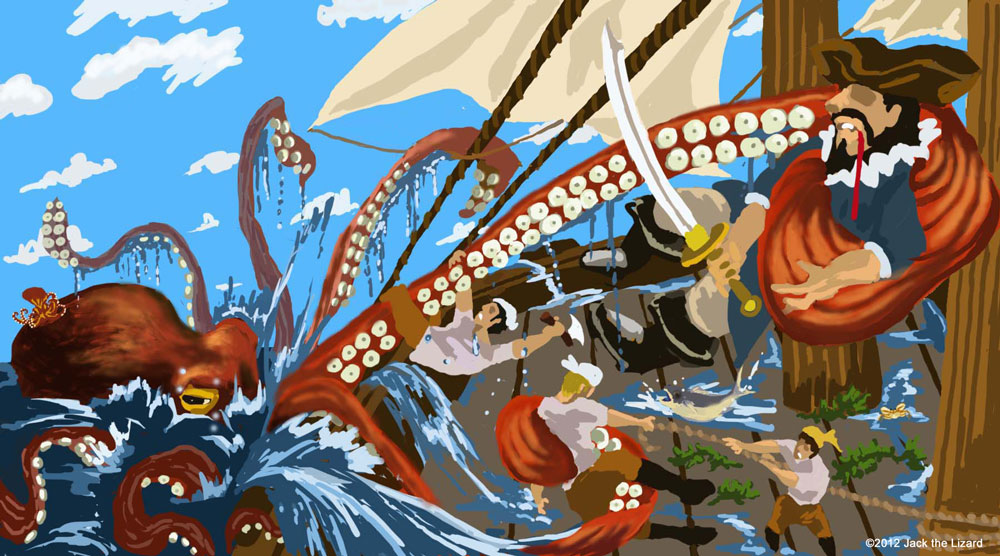 Kraken is the legendary sea monster which living in near Norway coast and off coast of Greenland. It is said that Erick Pontoppidan, bishop of Bergen city, Norway mentioned kraken in his book, Natural History of Norway (1752-53). According to his book kraken is a colossal size animal, it would match small island in size. There is no doubt that kraken itself is a lethal creature for ships and crews, but the whirl pool which created by kraken is real danger. He also said that an immature mature kraken was once washed up on beach.
Although kraken is often described as a huge octopus or giant squid, it is also said crab-like creature. Since once you saw kraken your chance of survive was slim, there was not many people seeing Kraken. But some explained that most of its time kraken dwelled on bottom of the ocean and feed on fish surrounding it.
As octopus is common ingredient in Japanese cuisine, there is countless folklore on octopus. One of the legends in 18 century told that giant octopus had been stealing cows every nights to eat and also drug the enormous serpent into the sea. It might be Asian kraken.