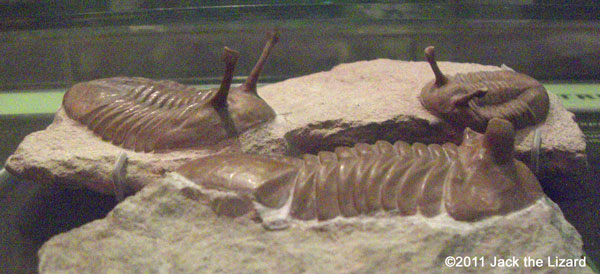 Asphus, Ordovician
St. Petersburg, Russia
Trilobites were arthropods. Arthropods are animals with segmented bodies, jointed legs and exoskeletons (external skeletons like shells). In the modern lobsters, scorpions and insects are in this group. Trilobites shed their shells to grow just like other arthropods do in the modern world. According to the studies, trilobites were existed in the ocean from 526 to 250 million years ago. For about 270 million years, trilobites were vigorously diversified up to about 17,000 species and spread over all over the world. During this period they change themselves both physically and behaviourally to survive in new environment.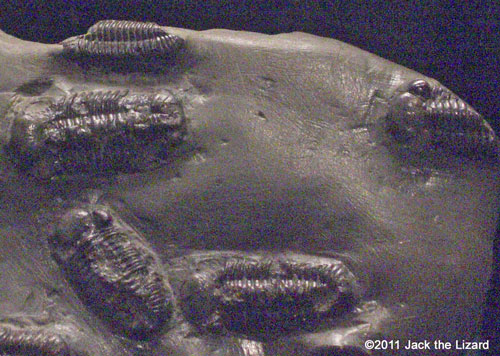 Phacops rana, Middle Devonian
Ontario, Canada
Most of them lived in mud or sands and settled at the bottom of the ocean. Their meals were worms and other invertebrates dwelling in the mud.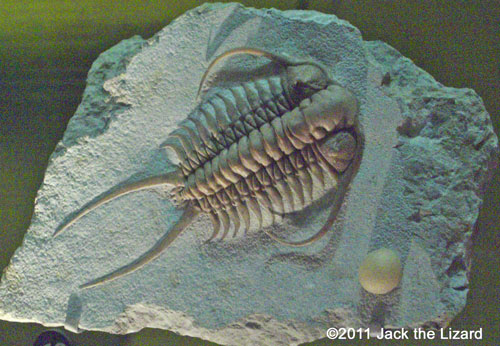 Cheirurus ingricus, Middle Ordovician, Russia
The name trilobite means three lobes, which are left lobe, center lobe and right lobe. Anatomically the body of trilobite has three sections: a head (cephalon), middle (thorax), and tail (pygidium). Trilobites had a pair of antennas and eyes on their heads. The typical size of trilobites ranges 3 to 10 centimeters. The biggest is 72 cm. The specimen was found in Ordovician rocks on the shore of Hudson Bay in Churchill, Canada in 1999, can be seen at the Manitoba Museum in Winnipeg. In 2009, swarms of up to a thousand giant 465-million year-old trilobite fossils were found in Arouca, Northern Portugal. The biggest fossil of this discovery was 90-centimeter-long!!
Trilobites had complex eyes which were compound with many lenses. The structures of the eyes were varied depend on their life styles. Some in sediment had eyes on stalks to peek above mud, swimmers had bigger eyes to have 3 dimensional visions and many of them had small eyes or even were blind. They could roll up themselves to protect against predators. Sharp spines also stuck out in this position. Those spines were extra layer of defense while the animal waited for danger to pass.