White-Tailed Eagle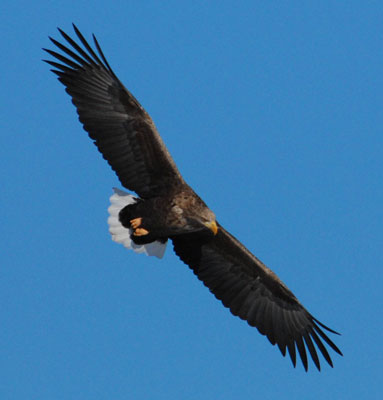 (The image provided by Kushiro-shitsugen Wildlife Center)
From Europe to Asia White-Tailed Eagles have wide range of habitat. In Europe the population of the breeding pair is estimated approximately 5000 to 6000. Since the protection bears fruit, the population of White-Tailed Eagle slightly increasing in the world. In Japan about 140 breeding sites are found, but there are threats such as road development and logging construction.
Steller's Sea Eagles overwinter, approximately 1400 to 1700 birds, in central and east Hokkaido. White-Tailed Eagles also come to Japan in November and about 550 to 800 birds stay in Hokkaido and Northern Honshu island during the winter.
Although both birds migrate to Russia in spring to breed, some population of White-Tailed Eagles stay in Hokkaido to produce offspring. In Kushiro shitugen White-Tailed Eagles are found in winter too.
Both White-Tailed Eagles and Steller's Sea Eagles mainly hunt fish such as trout and salmon. But they also scavenge carcass of sea mammals such as whales and sea lions. When it is available they forage the remains of Ezo shika deer as well. Those behaviors probably connect to recent problem of lead poisoning. They get poison by eating the body of Ezo shika deer and aquatic birds with lead bullet. Road side kills causes another problem, because both birds often hit by cars while they are feeding on road side kills. Some birds hit the windmill for power as well.
Steller's Sea Eagle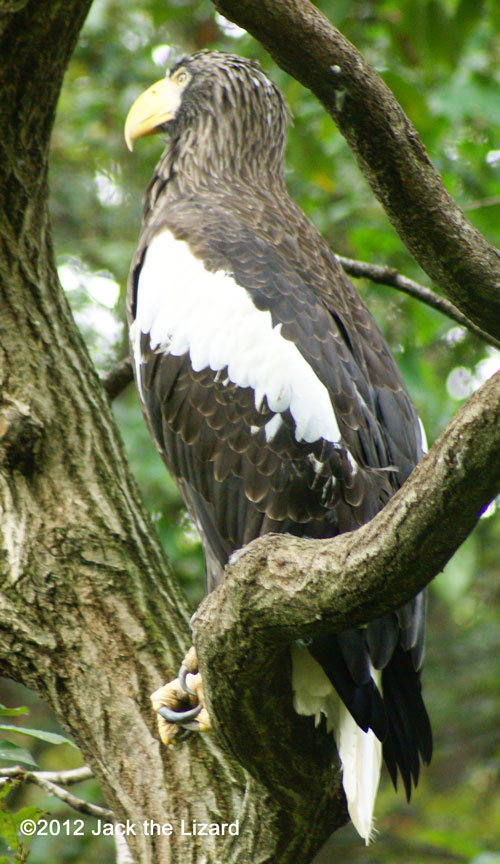 Steller's Sea Eagles are one of the largest birds of prey in the world. They inhabit from Fareast Russia to Korean peninsula and China. The population is approximately 6000 to 7000. Although Steller's Sea Eagles stay in Hokkaido during the winter, they do not breed in Japan.