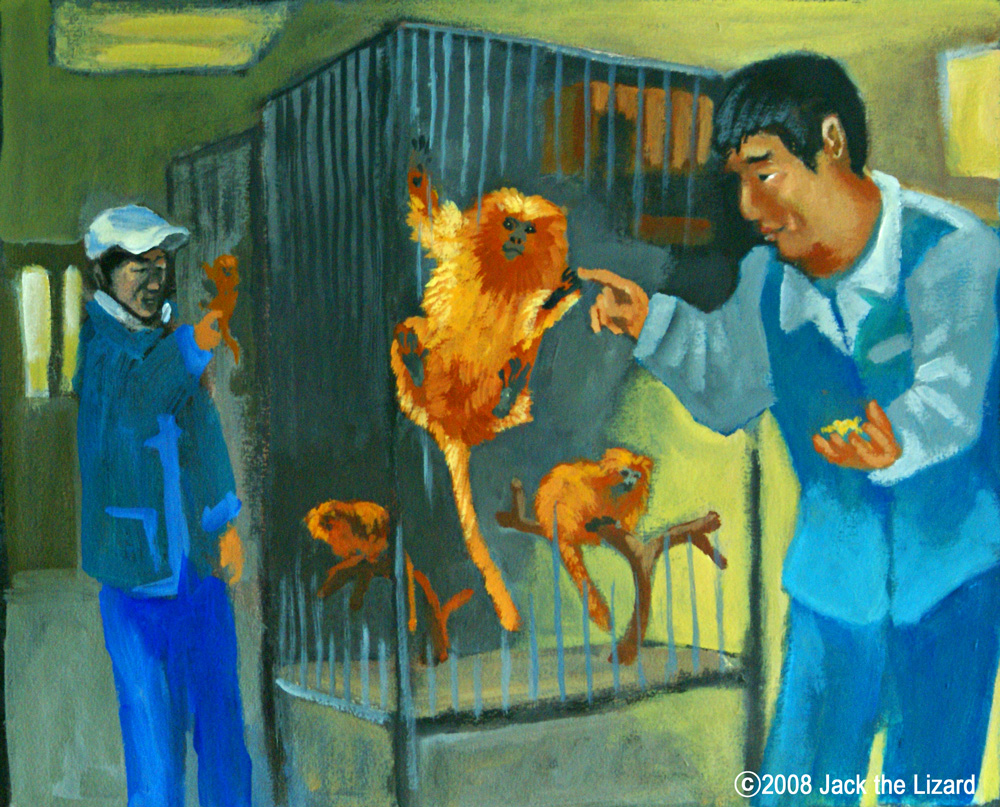 In Japan, the Golden Lion Tamarins, usually abbreviated to GLT, live in Hamamatsu Zoo only. Their zookeeper Mr. Ryou Suzuki says,
"The GLT is the biggest of the family Cebidae. They are very healthy then it's not that hard to take care of them."
He dices up apples in half-inch cubes, he studies the condition of their group from their howling, and he……….


Hey, wait a minute. There are so many things to do and they don't sound easy jobs to me.
According to Mr. Suzuki, the GLT has more than five different voice tones for communication. "It's a little monkey, but their behaviour is sometimes aggressive. Their fangs are sharp enough to hurt others. I stop their skirmish occasionally."
In front of us, the GLTs shine like golden treasures.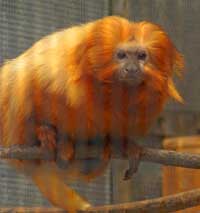 Hamamatsu's GLTs travel to the worlds.
The GLT is an endangered species. Its bleeding is monitored internationally, and one of the conservation program is organized in the US. Mr. Yuji Ozasa is a leader of the study group at the zoo. He is a vet and also delegate to the conservation program.
Hamamatsu Zoo has had the GLT bled very successfully since 1994. The mother, Rika, had brought up 15 infants in her life, and 8 of those were sent to the other zoos in foreign countries such as Singapore, Australia, China, and so on. Rika died in 2006.
"She was a very good mother. Her death is the big loss for us. She had brought up a lot of babies. I wish we have another female someday to grow the GLT family again in this zoo", says Mr. Ozasa. Now 8 male GLTs live in Hamamatsu Zoo.