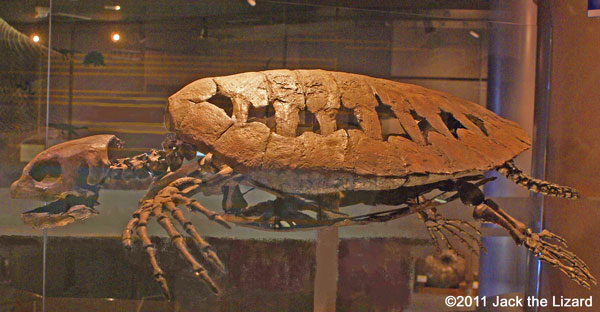 Skelton of Mesodermochelys
The rocks containing the fossils consist of limestone, so formic acid is used to melt the rock to take the bones out. Formic acid however may melt the bones as well, so acrylic resin paraloid is applied on the exposed bone for protection.
"All the procedure takes time, but it is very important for the museum to accommodate variety of fossil specimens. I believe our displays help our visitors to imagine diversified animal world of the Cretaceous Period," said Kazuhiko Sakurai, the curator.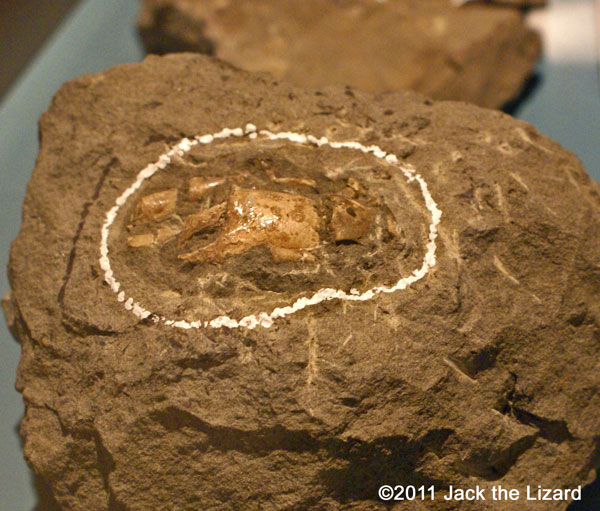 Callianassa petalura, late Cretaceous
Sakurai graduated from Hokkaido University of Education and worked for a geologic survey company, then he has taken the job for a curator of Hobetsu Museum. Sakurai think that Mesodermochelys is one of the spotlights in the museum.
"I believe visitor can visualize Mesodermochelys swimming beside Mosasaurus through our collection. Although Mesodermochelys had been extinct long time ago, it is surprising that their family still survive on the earth as sea turtles. I want the visitors to understand the ancient world is closely connected to the current nature. To support visitors' imagination more marine animals such as arthropod Callianassa petalura and Retroplumidae fossils are on displayed together too. They were in the same ocean with Mesodernochelys." said Sakurai.