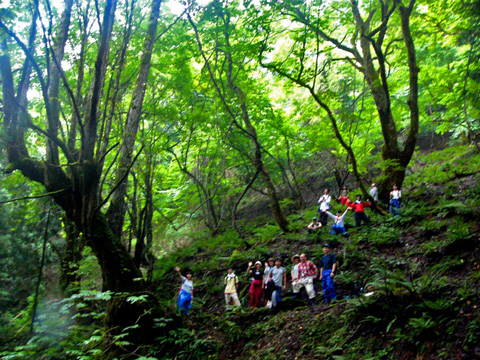 After the first purchase of the forest in Toyama Prefecture, the society keeps purchasing lands to protect more natural forests all over the country. The photo above is Tokura in Hyogo Prefecture purchased in 2006.
(The image provided by Japan Bear & Forest Society)
Japan Bear & Forest Society is not the group protecting bears only. While protecting bears, the primeval forests have to be protected as well. Bear needs balanced environment to live in the wild, so the society's activity has 5 basic elements; forest restoration, natural farming, wildlife rescue, invasive species measures and remote mountain trust.
First of all, Forest restoration requires diversified plants and trees on mountains just as they used to be. However most of forests have many of cedars and Japanese cypress after the national forest development for lumbers. The society looks forward to have forests which have variety of broad-leaved trees such as Quercus serrata Murray, Quercus crispula and the Sawtooth Oak. These trees provide food such as fruits and nuts for wild animals. It is also essential to communicate with local people to look for the way to share the environment with wildlife such as bears, deer monkeys, hogs, racoon dogs and so on.
Second, Natural farming is the strategy to grow crops using only natural nutritious water coming through soil in the mountains without fertilizer and farm pesticide. Healthy farming is appreciated by people in the big cities, and the natural farming gives opportunity for people in town to connect with the forests where wildlife lives.
The third is invasive species issue. It is almost impossible to get rid of all the invasive species that have been adapted and included in the food web in the wild nature of Japan. So the society requests the national and local governments to avoid unnecessary killing but wait to let them settled in the new balanced ecosystem, while the society demands to forbid importing of exotic animals.
Finally Remote mountain trust is one of the biggest projects of the society. The project is to purchase the entire of natural forests to protect its' environment and animals living there. At this moment, the society possesses and manages about 12.67 square km (3,131 acre) of forests in the country.