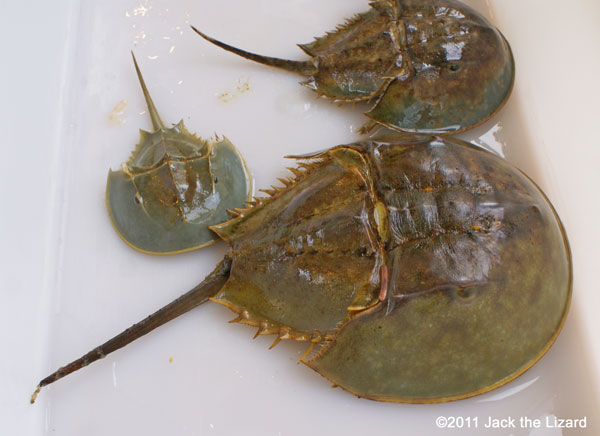 The horseshoe crabs above are from the USA. They have larger eyes on their carapace than Japanese do. Horseshoe crabs live in China, Taiwan, The Philippines, Indonesia, Bay of Bengal in India, the east coast of the USA, and so on.
"It is not easy to recognize all individuals particularly. There are so many of juvenile crabs here, but still I can identify some of them, because each has different face and the carapace shape, and personality. Some are vigorous during the meal time and pushing others from food, while some are quiet", said Souji as if he is the father of all.
Even though he kept studying on their behavior and ecology for 26 years, so many things are still unknown. "First of all, we don't know about their food. We feed warms and squids to the crabs in this museum, but there is no clear answers what they actually eat in the wild. Somehow we gradually understand their behavior in summer, but we have no idea about them in winter," said Souji. While the ecology of the crabs is still needed to study, he visits local communities to talk about his experience and knowledge of the crabs to send message of how fascinating the crabs are.