There is not a complete dinosaur specimen on display at the museum yet. Since the fossils are scattered in the strata, one complete specimen of dinosaur is extremely rarely found.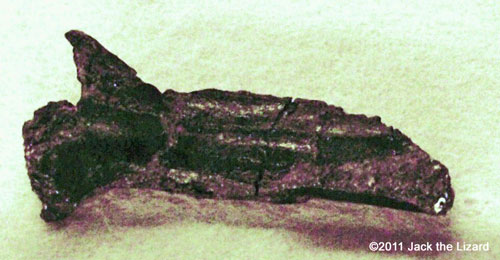 The vertebra of Azhdarchidae
"For instance, a young tyrannosaur was dead and fossilized. During this process those bones were washed away by a body of water such as rain and river. Then most of the bones were lost or dispersed all over the place and mingled with the bones of adult tyrannosaurs or other animals. In other words when a complete specimen of dinosaur is fossilized, the bones must be buried quickly before being scattered and escape from decomposition. "Ikegami explains why it is difficult to reconstruct a specimen of dinosaur.

Although just part of the bones are found as fossils, sometimes we can tell that those belong to a specific dinosaur such as hadrosaurus or therizinosaurus. Why can we do that? According to Ikegami "Each dinosaur has unique point on its bones. For example, Therizinosaurus have the characteristic back of its skull. You can compare its fossils with the other specimen. Also some past studies show which bones belong to which dinosaurs. Even so, if the fossils were not in good condition, you could only tell that those belong to theropoda or sauropoda."
As regards one of the fossils found in Mifune, the front teeth of one theropoda upper jaw were classified as that of tyrannosaurs.
Anyway it takes time and effort to dig out fossils and classify them. In addition to that if one fossil has significant value, it will be registered in the International Paleontological Association. In the case of Mifune Ikegami did the publication of Azhdarchidae in English. The contents of the publication include the age of strata in which the fossils were found, the condition of fossils, the feature and the similarity with same species. Through the publication like this the researcher from all over the world can access the information on the fossils found in Mifune.