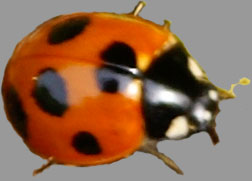 Coccinellidae is commonly called ladybird in most of English spoken countries and ladybug in North America. The size is about a millimeter to 1 centimeter. The red round tiny insect is one of the most popular insects of children in the world, and it is a sign of luck in many of different cultures in the world. There are more than 5,000 different kinds of coccinellids. Some are red with black dots, some are orange, some are black with red dots, entirely brown or black, and so on. They are one of the insects emerge into the field early spring as if they told that spring arrival.
Coccinellidae is an insect. Therefore the body structure consists of 3 parts, head, thorax, and abdomen. There is a pair of antennas and compound eyes on head and six segmented legs are attached to thorax. There is a pair of thin wings underneath of a pair of thick hard wings covers on its back, just as the other beetles have.
Some coccinellids are predatory and some are herbivorous. Commonly found the Seven-spotted Ladybug (Coccinella septempunctata) is a predator. They feed on aphids or scale insects, so they are appreciated by farmers due to the ladybugs eat up the pest harmful to their farm products.
Ladybugs also become prey for another insect. For instance Dinocampus coccinellae is a kind of wasps which lay their eggs inside of ladybugs. The hatched larvae wait for end of winter. Then the larvae emerge and spin a cocoon underneath of the dead ladybugs.