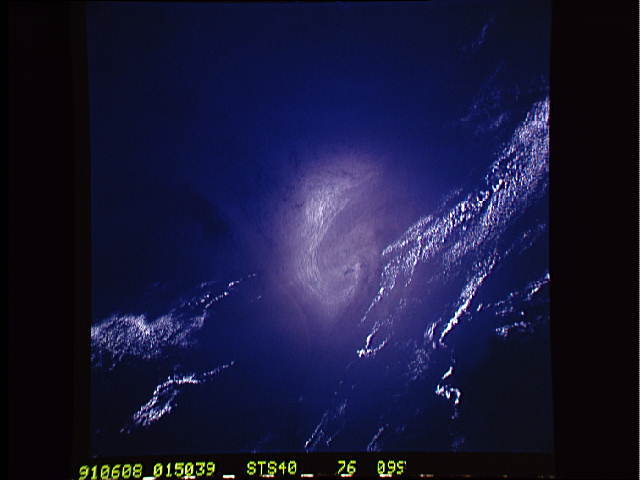 The photo of eddy, taken by astronauts. Two eddies, one quite large and the other small, can be seen forming along the boundary of the Kuroshio Current.
(The image provided by NOAA and NASA)
The East China Sea
Several features of turtle movement were demonstrated by examining data from satellite. First, most of the tagged turtles stay in a region between Taiwan, China, Japan, and South Korea. Especially many turtles remained in the East China Sea continental shelf.
Dr. Donald R. Kobayashi, NOAA Fisheries Pacific Islands Fisheries Science Center explains this result.
"The East China Sea continental shelf is biological hotspot. I think it relates to the major river, the Yangtze River, nearby. The freshwater outflow from that river makes the water of that region highly productive. Also shallowness helps turtles because turtles probably forage at the bottom of water. There may also be many fisheries in the area, which may be attractive to the turtles, either going after the same items or scavenging.
In any case more work is needed and it is very important to cooperate with oceanography expert in that region."
Second, Eddy activity was apparent over the entire region during the study period. Then some turtles outside of hotspot likely stay close to eddies.
"There are differences between the hotspot turtles and the offshore turtles. I think eddies offer more food opportunities for items like jellyfish, which may be more important for turtles far from shore, away from the hotspot. But more analyses are needed to know this pattern" said prudently Dr. Kobayashi.