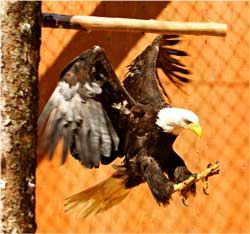 He showed me a big jump when I entered their facility. Cool!
Nancy and Gunther Golinia run this rehab shelter. As Chairman of the Wildlife Shelter Board, Tobbi Gjelsvik helps with many things as well as publication and fund raising. The Golinias have been working this shelter for 18 years. Although they are in their 70's still vigorously work to help animals everyday. It is non stop working. The operation of the facility is supported by donations and Golinia's own finances. Also some volunteers are giving their skills to improve the condition of this shelter. For instance, one professional tree faller helped them to cut down trees to extend their facility site.
Although it is a wildlife shelter, they also accept pets such as Budgies, Chinchilla, Rabbits, Turtles, Guinea pigs, etc. At this moment, the shelter accommodates Bald Eagles, Owls, Grouse, Ducks, Deer, and a large variety of others.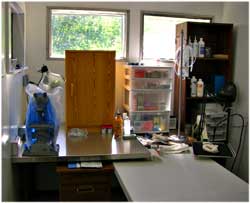 They can not always afford a veterinarian. So Nancy learned special knowledge of animal care by herself and do procedure by herself in this lab.