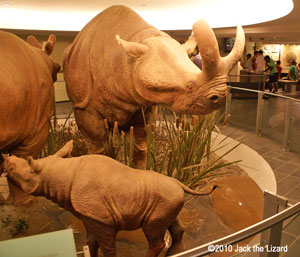 Brontotherium
Mammal in the late Eocene Epoch
Canadian Museum of Nature (Ottawa)
Oxygen and Carbon Dioxide
Dinosaurs and many other large animals lived during the Mesozoic era that stretched over from 251 to 65 million years ago. During that era the air contained more oxygen than now. Oxygen produces energy in a body by combining with food. So increasing amount of oxygen in a body means more energy which helps muscles and bones to grow will be produced.
The amount of carbon dioxide in the air during that era was also larger than today and the climate was warmer too. These factors provide the best condition for plants to grow. Then plant-eating dinosaurs could get enough food to build healthy and strong body. The carnivorous dinosaurs could also find their prey.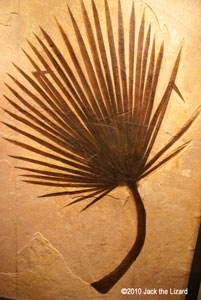 Palm leaf
Canadian Museum of Nature (Ottawa)
The fossil was found from the stratum of the Early Eocene (55 to 34 million years ago) Green River Formation in Wyoming.