| | |
| --- | --- |
| | ART GALLERY |
---
Jack is waiting for your paintings.
For the detail, click Here!
For the full size image, click on the painting.
---
by Ms. Satoko Yoshino from Tokyo
Reiko the Polar Bear

She died on Feb 24, 2012. That was the unexpected news while I was expecting to see her on the field.




Rest in peace, Reiko.
Kingfisher

Kingfisher was one of the birds that I wanted to depict. The medium are color pencils and acrylic paint. I hope you can hear the sounds of the bird's feet scratching the tree branch.
Black Rhinoceros

I kept dotting constantly with the mapping pen. I wanted to depict the realistic texture of his skin. After I drew rough form of the Black rhino, I applied black ink to finsh details of the texture of the skin. No correction had not been made, once I finshed the painting. It was challenge for me to figure the face and muscles without line drawing.
---
by Machiko Hara from Okayama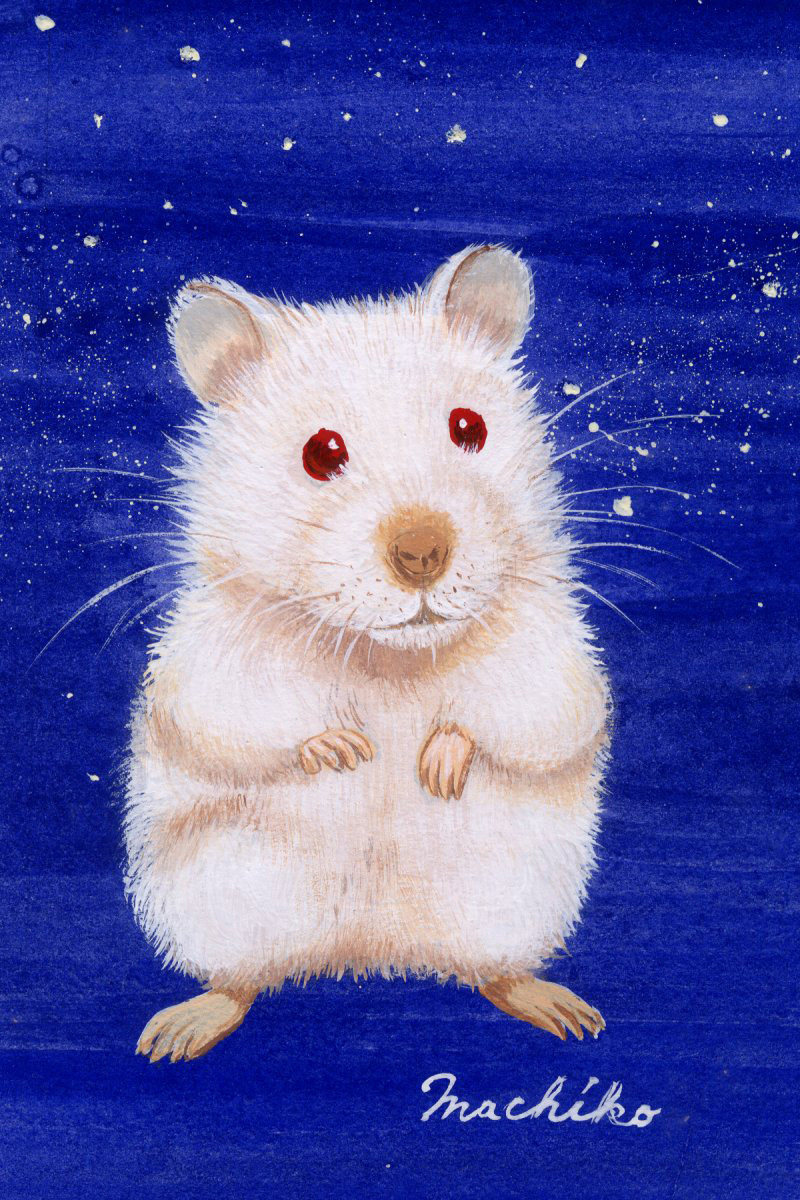 Hamster D
Night sky is full of stars. Can you see them, little hamster?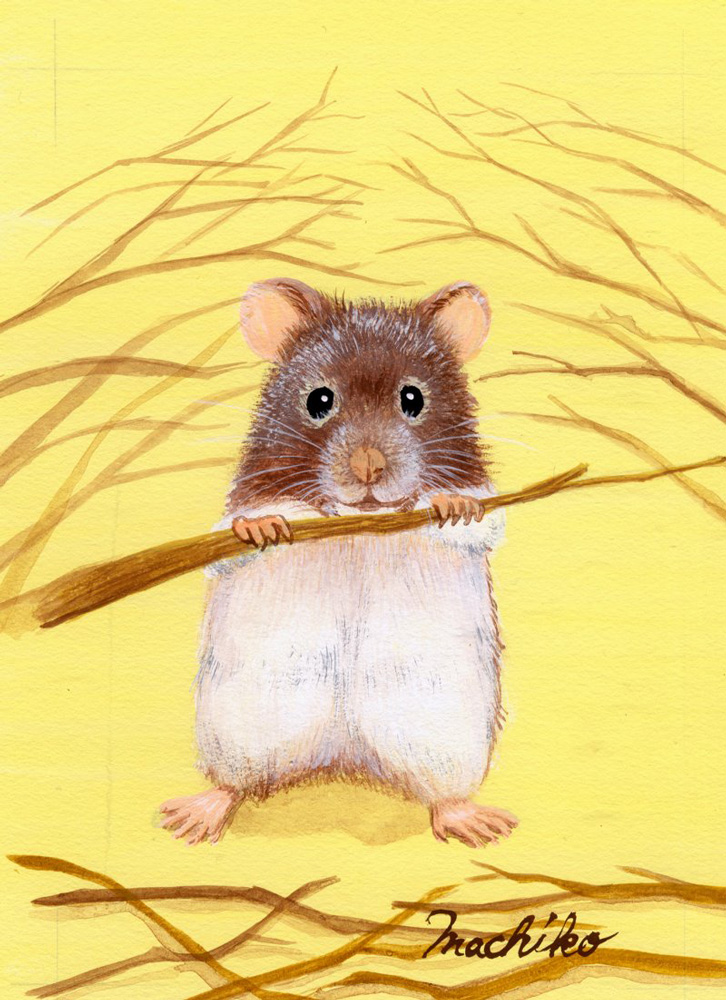 Hamster C
He collected a lot of twigs in the forest. What would you like to do with it?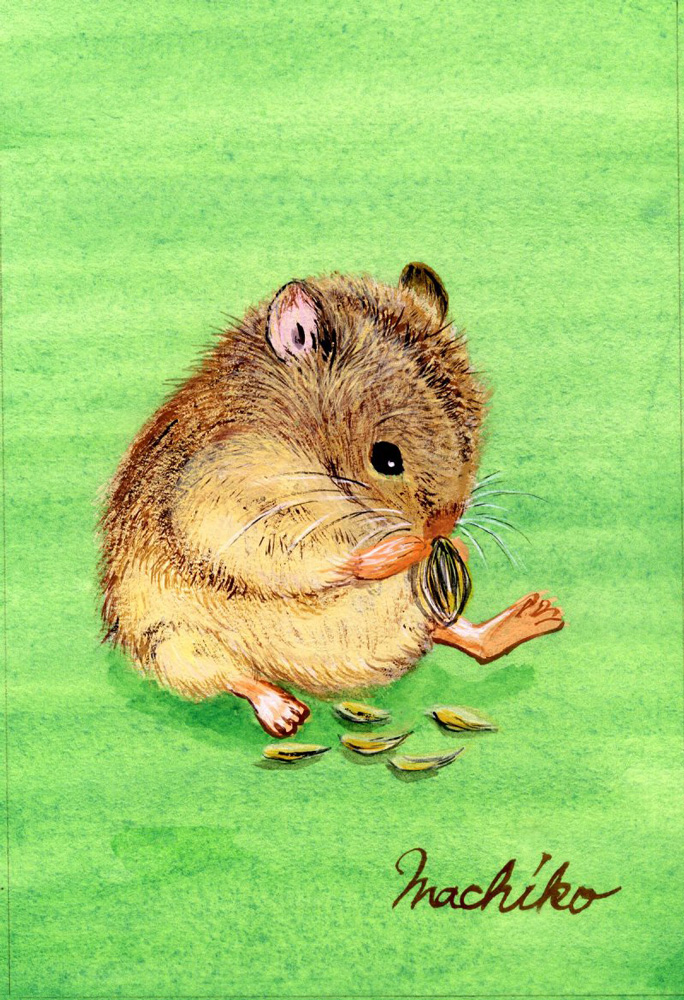 Hamster B
He tries to have the sunflower seeds as many as possible before his buddies find them.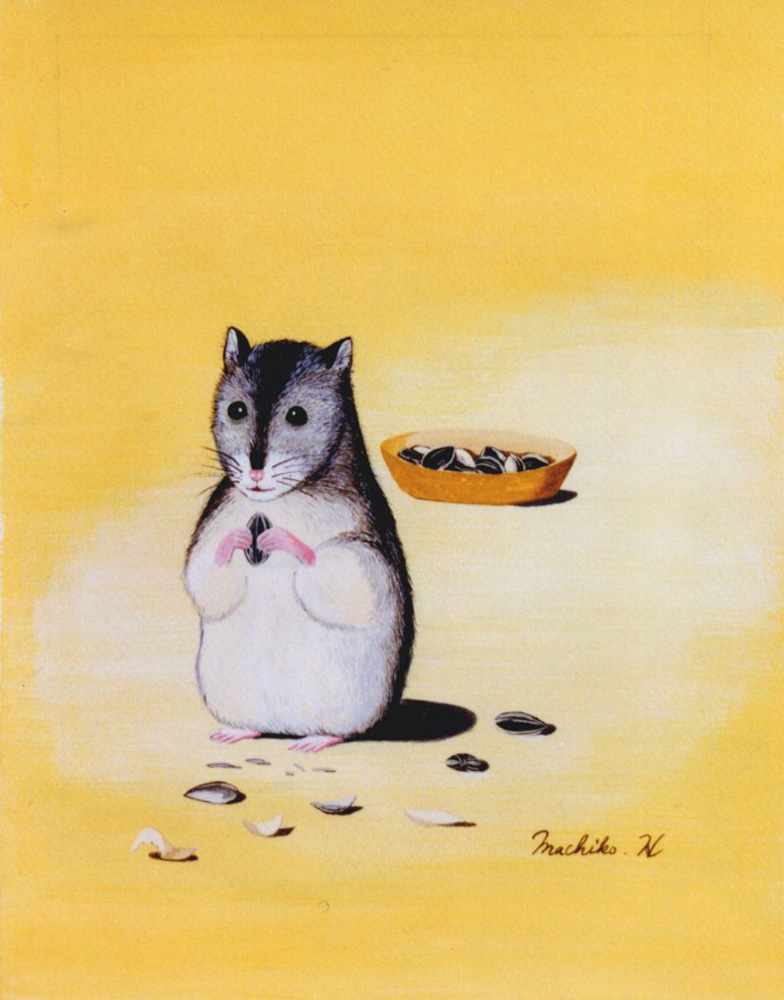 Humster A
Snack time! He looks so happy to have the sunflower seeds. Look at his posture!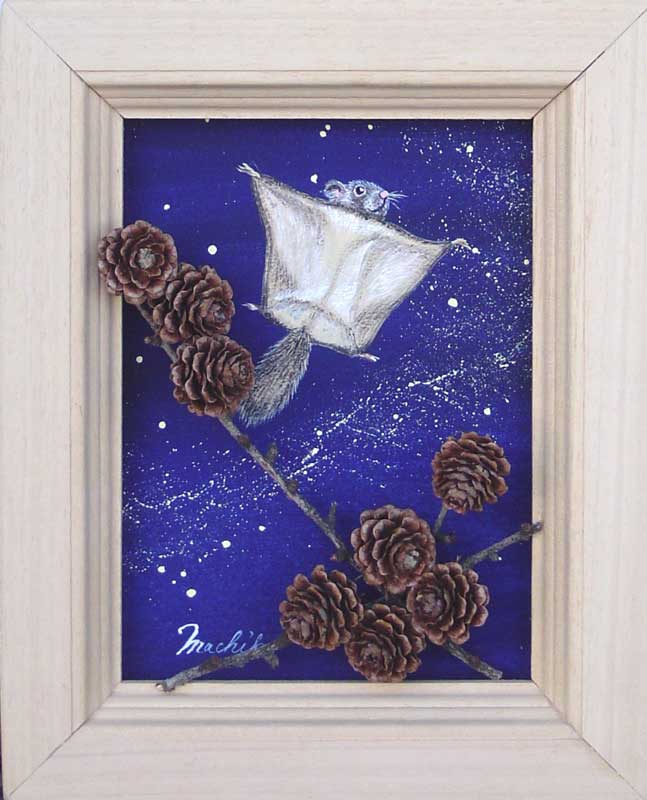 Flying Squirrel
The sun has set down. Now it's the time for me to go out.
Lets' jump into the starry sky.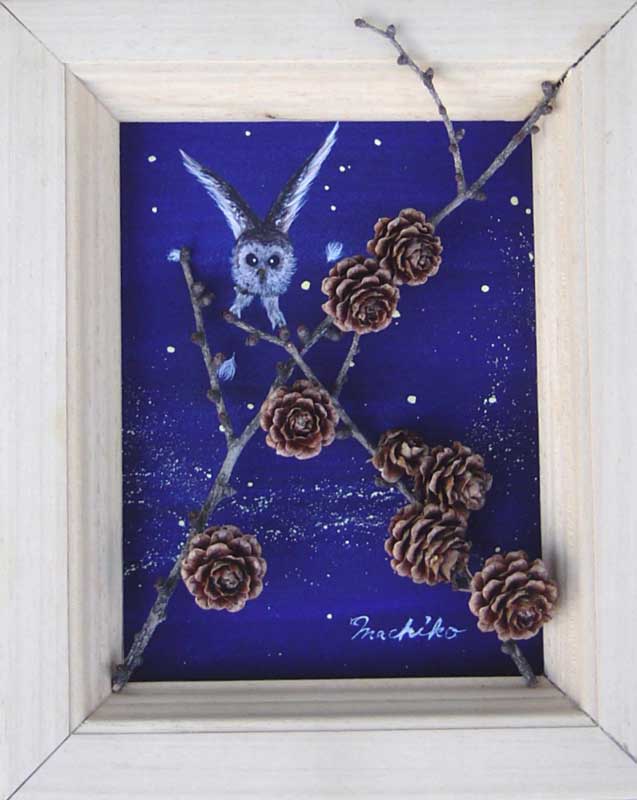 Owl
This owl is from the photo, which Jack took at Prince Rupert Wildlife Rehab Shelter.
She found something moving in the dark.
She can see it clearly.
Now, Go get it!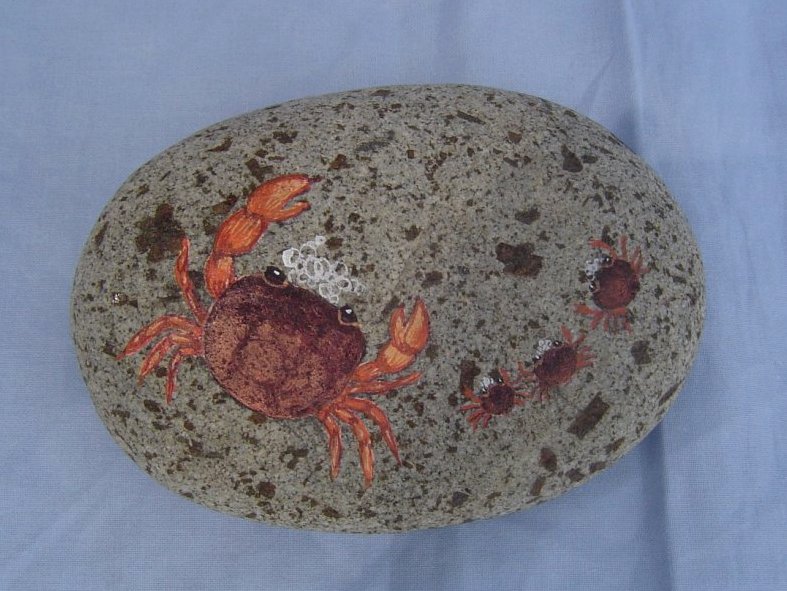 Crabs
Whole family members are going on a picnic.
"How do you make bubbles, mom?"
"Do like this."
Good job guys. Keep practicing.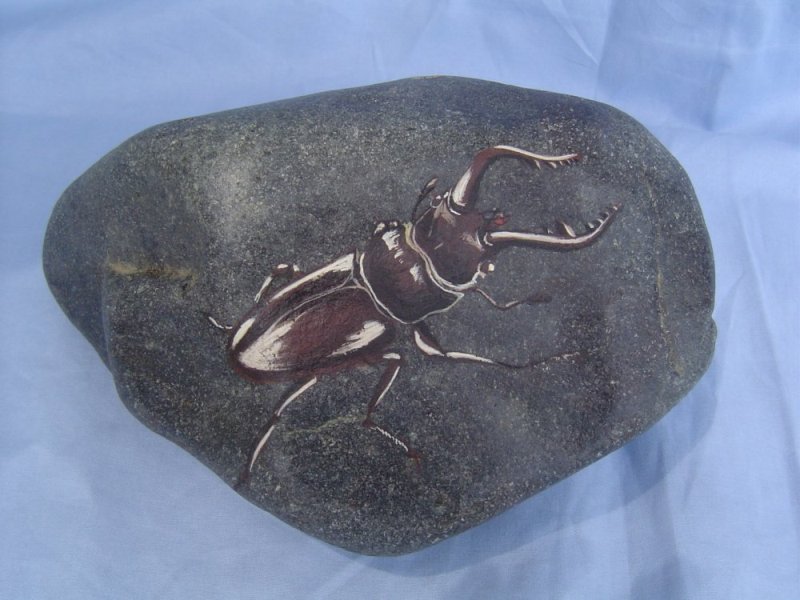 Stug beetle
I usualy stay on trees to sip the tree syrup.
Today, I came dawn onto a stone.
What a hard sarface! My claws cannot catch it.
Hung on tight.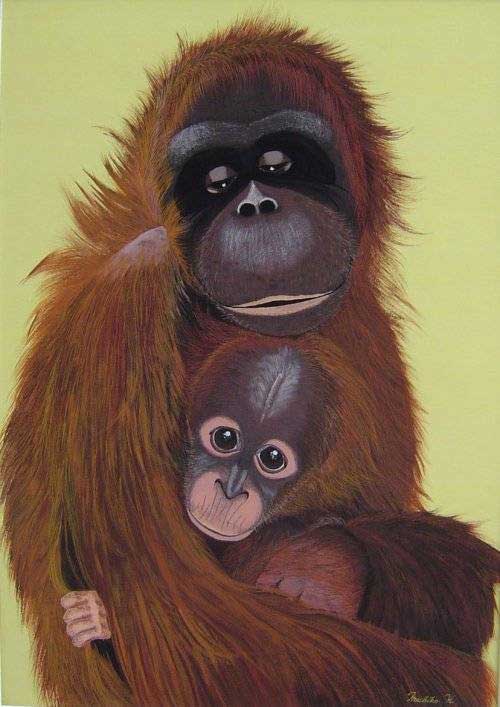 The lives we want to care
The lives we want to protect on this planet, all the small lives, mothers' big love to their children, the wild animals, and the environment.
Wishing them live well.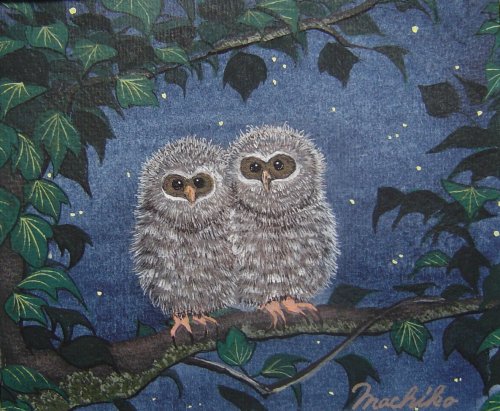 Owls
The little owls have just left the nest.
Their big round eyes are looking at the out side world. The brothers stay on the branchs nervously in the moon light.
What do you guys feel about the new world?
---
by Sari Richter from Toronto, CANADA
http://sarichter.deviantart.com/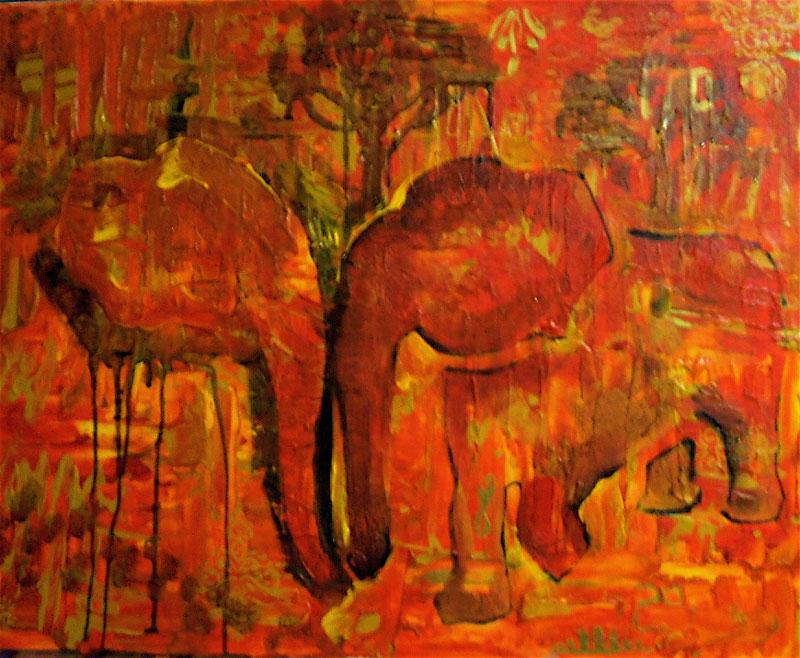 Elephants in Red
Acrylic on Canvas Board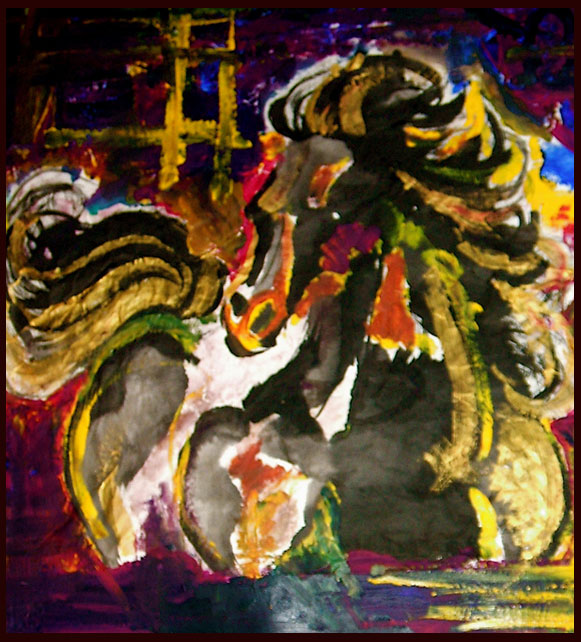 Multicoloured Dream Horse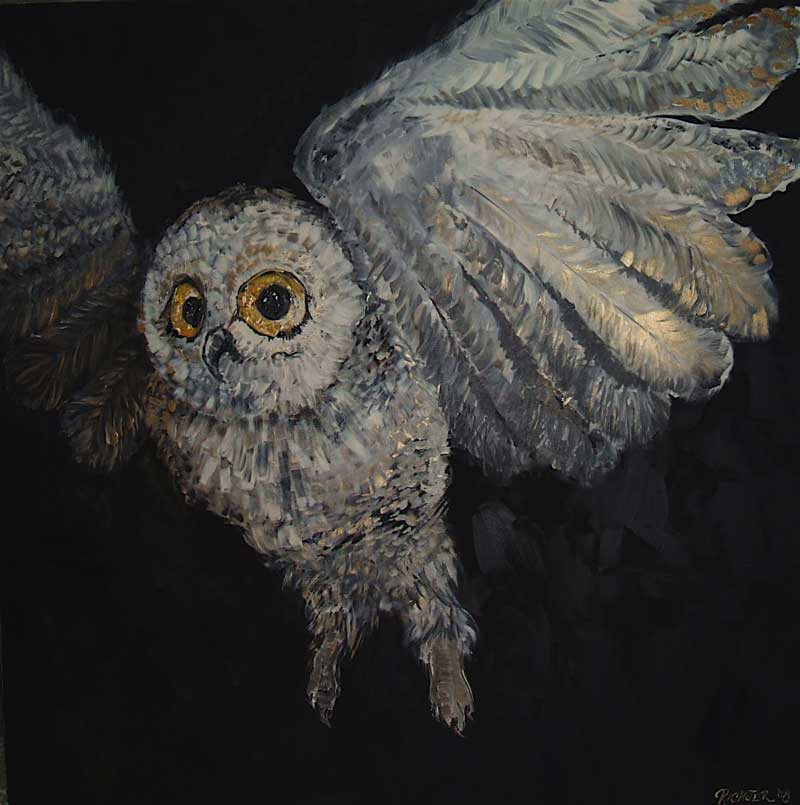 Nightowl
Acrylic on Canvas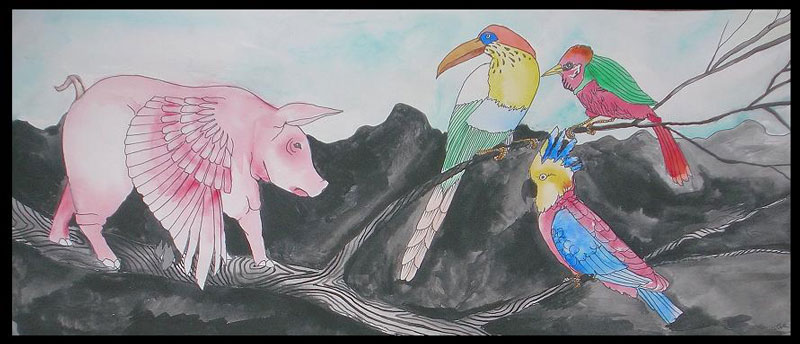 I've Seen Worse
Watercolour and Pen
---
by musca from Tokyo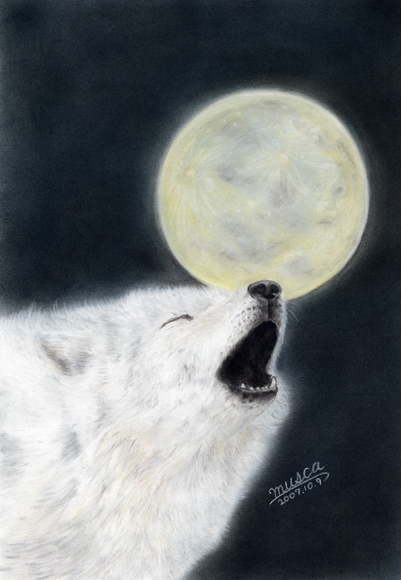 Nocturne
This papinting is for the memory of Sarah the Timber Wolf
of Omoriyama Zoo in Akita.
When I met her, she was a very old wolf.
She tried to howl, but I did not hear her howling actually.
I imagined her howling in the moonlignt on a quiet night.
Don't you feel that you can hear her now?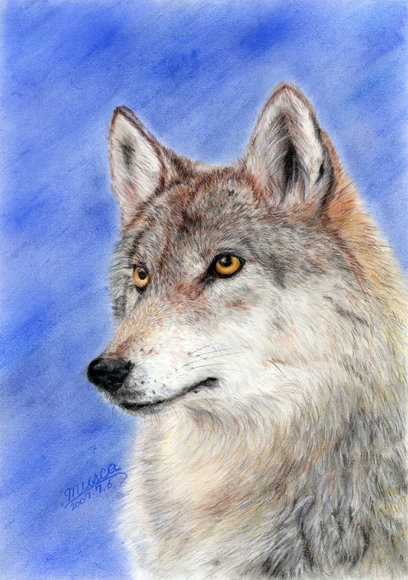 Moonlight
She is Mira, the Siberian Wolf in Tokushima Zoo.
She reminded me herself in the moonlignt in my imagination
when I was painting.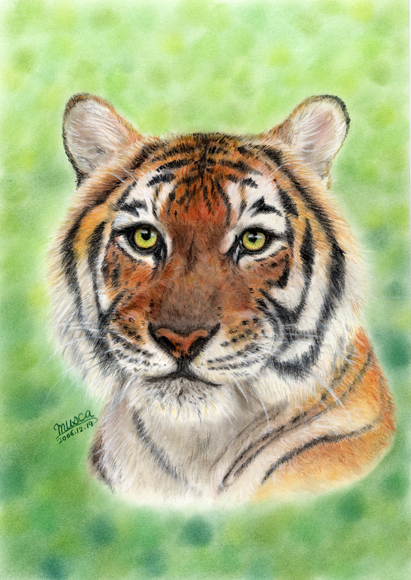 Refreshful Green
This is an Amur Tiger in Zoorasia in Yokohama.
I love the eyes of any cats. Their eyes is so clear like marbles, piercing and beautiful to me.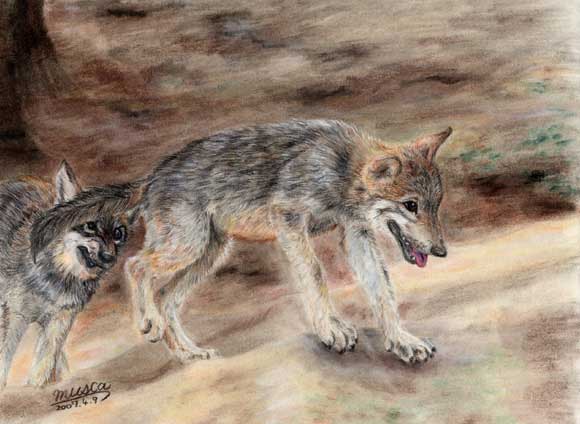 Brothers
The brothers, great plains wolf, were born at Family Park in Toyama-city in 2005. They were playing a lot, chasing each other and having a lot of fun.
Now they found the mates and not in this park any more.
I am looking forward to see them glown at their new zoos.
I would like to depict how they look now.
---
by Mr. Toshimaro Uchimura from Hyogo.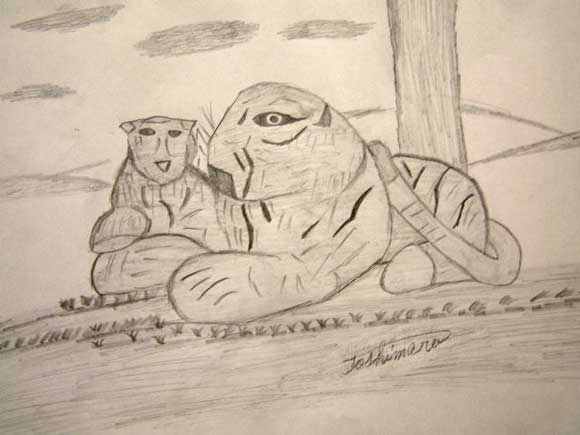 I created a lineal drawing of the Tigers.
I wonder if it looks cartoonish a little bit?
I would like draw another animal next time.

I don't do this often, but had a good time. That was fun.
---
by Yuichi from Tokyo.
Yuichi sent us his pencile drawings.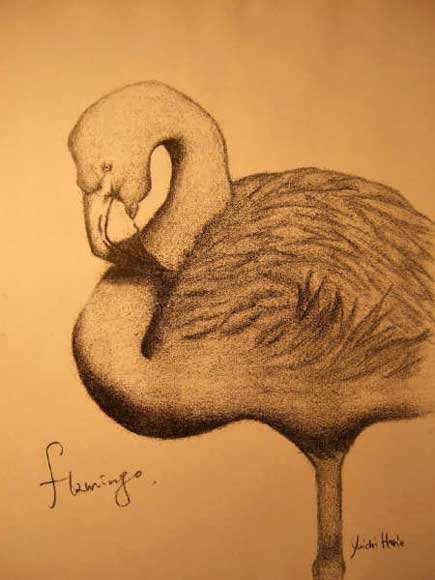 Flamingo
The Flamingoes have the beautiful curved body line.
It can be depicted in the pencil drawing.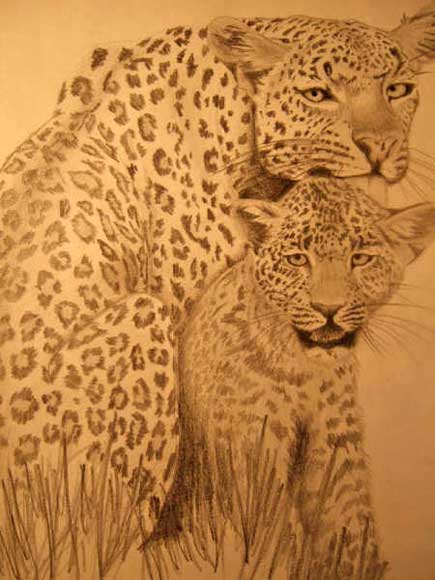 Leopard
The mother Leopard has the strength and tenderness.
She has the stunning back.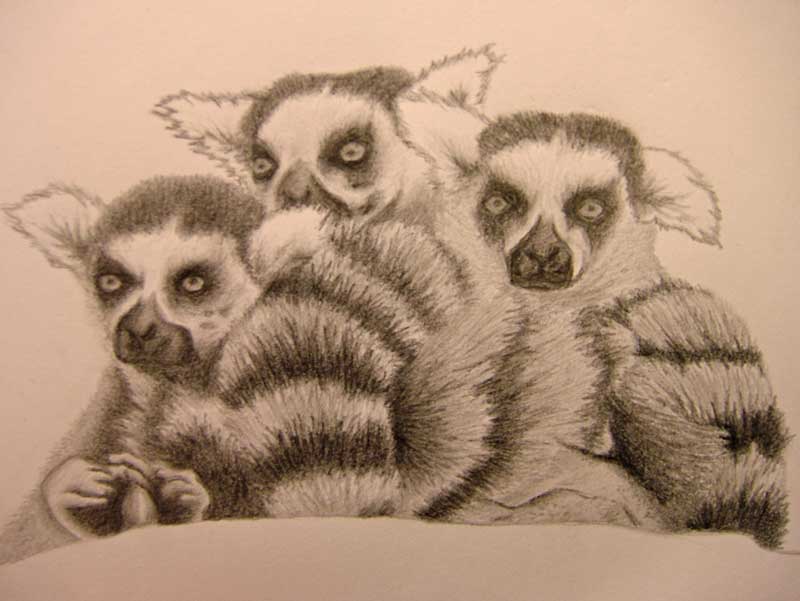 Ring-tailed Lemur
The three are nestling to each other.
It's intresting to see the different expression on each faces.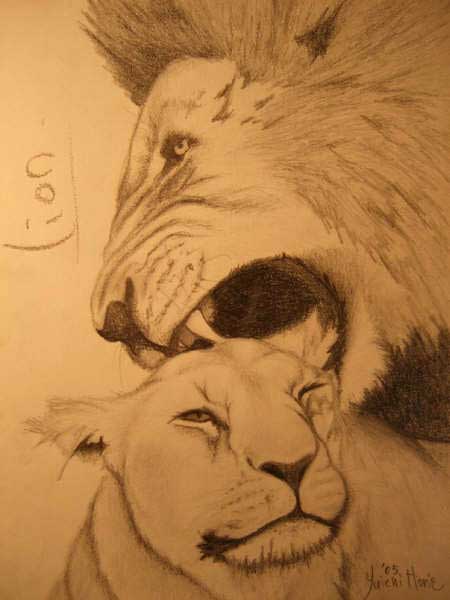 Lion
They show their strength and sweet love on their expression,
It is just cool!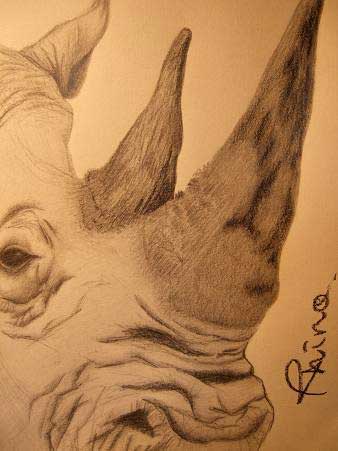 Rhino
I symbolized his big horn his strength.
His lovely eyes are very impressive.
---
by Jopp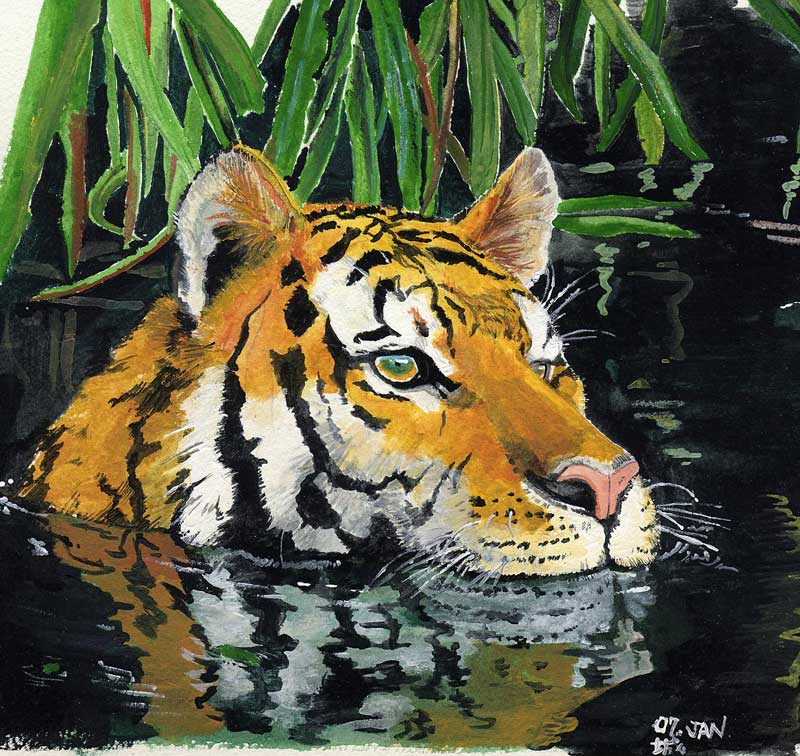 Bengal Tiger
The tigers love bathing.
I wonder if she is hiding in a pond, looking at her pray quietly.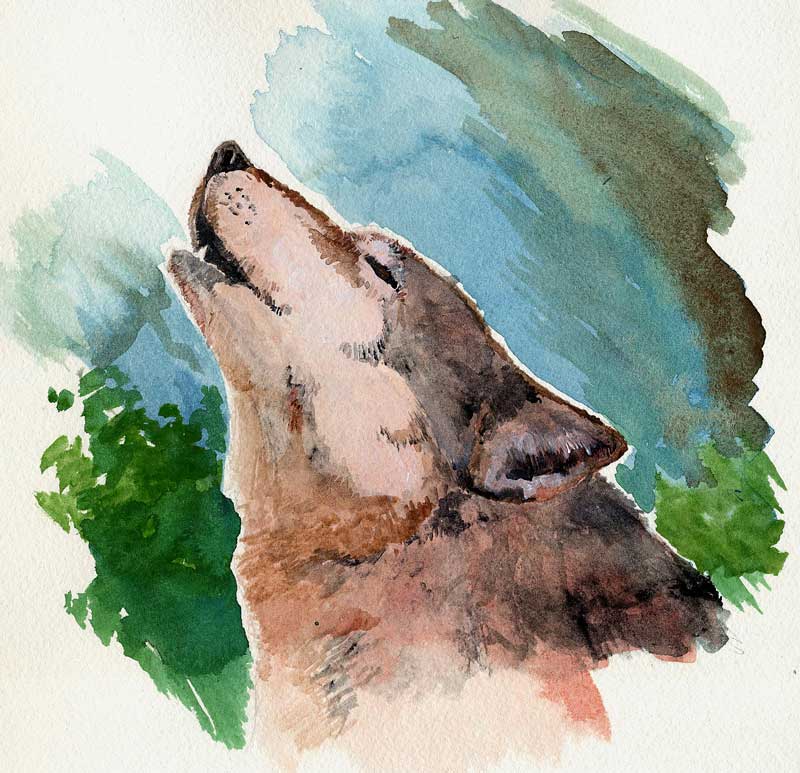 Howling
This is a great plains wolf.
I want to see them in the back country someday.
---
by Pointer from Tokyo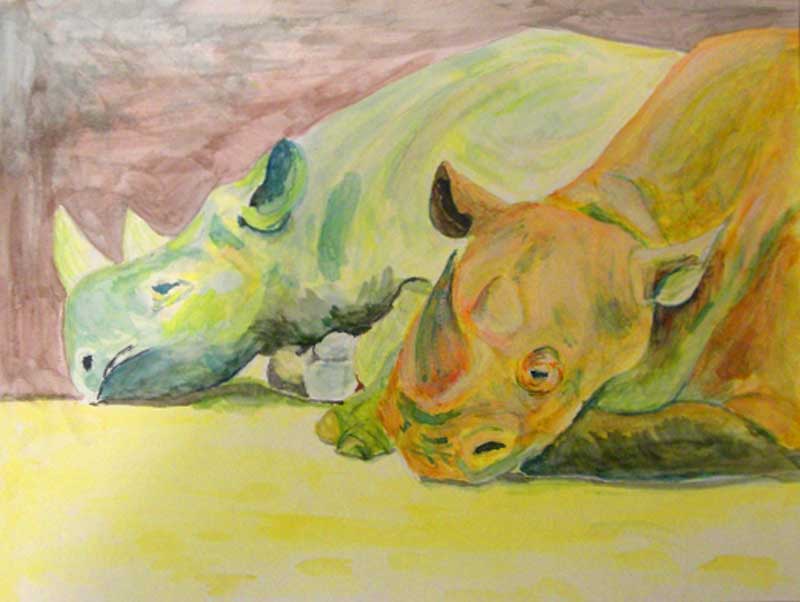 I love painting. These are the rhynos at Ueno Zoo
---